Real Estate Help for Your Unique Business Needs
One size doesn't fit all when it comes to commercial real estate. If you are a small business, a restaurateur, or a landlord, you have specialized real estate requirements that are vital to your success. And we understand that.
Our years of experience working with professionals in industries like yours have allowed us to tailor our client services to fit your needs. When it comes to real estate, EA Commercial speaks your language.
Unlike the big commercial real estate firms, you don't have to be a million dollar client to earn our full attention.
Even if it's your first real estate transaction, we invest the time to meet, discuss, and strategize about what is important to you. At EA Commercial, we are in the business of creating long-term relationships, because we know that your success is our success.
We want to help you find that perfect new office space or that great new location for your restaurant. We will find you that ideal long-term tenant and that gem of a building to add to your portfolio.  We want to be there through your business cycle:  start-up seeking cool rehabbed space to mid-sized business seeking expansion locations. We'll even be there if you decide to downsize or retire.  We want to be your trusted real estate professional.
EA Commercial Real Estate is a full-service commercial real estate brokerage, serving the Baltimore-Washington metro area.  We represent landlords, tenants, buyers, and sellers of commercial real estate.  Whether you are looking to sell, purchase, or lease, EA Commercial is your trusted advisor.
Let's get to work building your empire.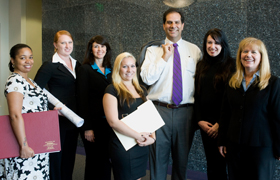 Our team of seasoned real estate professionals all have many years of working with buyers and sellers of  educational properties.  We look forward to assisting your needs whether you are a buyer or a seller.