Our Brokers: Josh Halbedel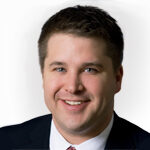 A graduate of the Real Estate & Economic Development Program at the University of Baltimore, Josh joined the team in the spring of 2011. Since that time Josh has been responsible for the sale of residential and industrial lands, churches, a school campus, and leased industrial, flex, office and retail properties among other transactions. He has a strong background in real estate auction marketing and sales as well, having been involved in real estate sales and auctions since 2004.
As a real estate auction marketer, Josh orchestrated over 200 auction events for land, industrial, offices, apartments and residential real estate. From 2004 to 2008, he was the top auction sales producer on a team of 30 associates. Josh has solid experience in tailoring real estate agreements to purchase, sell, lease, finance, option, assign, 1031, and otherwise control real estate.
Active in the local and regional development industry, Josh is a Young Leaders Committee member of the Urban Land Institute (ULI) Baltimore, a member of the NAIOP Baltimore Chapter and Accredited Land Consultant (ALC) candidate.
Prior to his real estate career, Josh completed a five-year active duty tour with the US Army Engineers, both stateside and abroad.